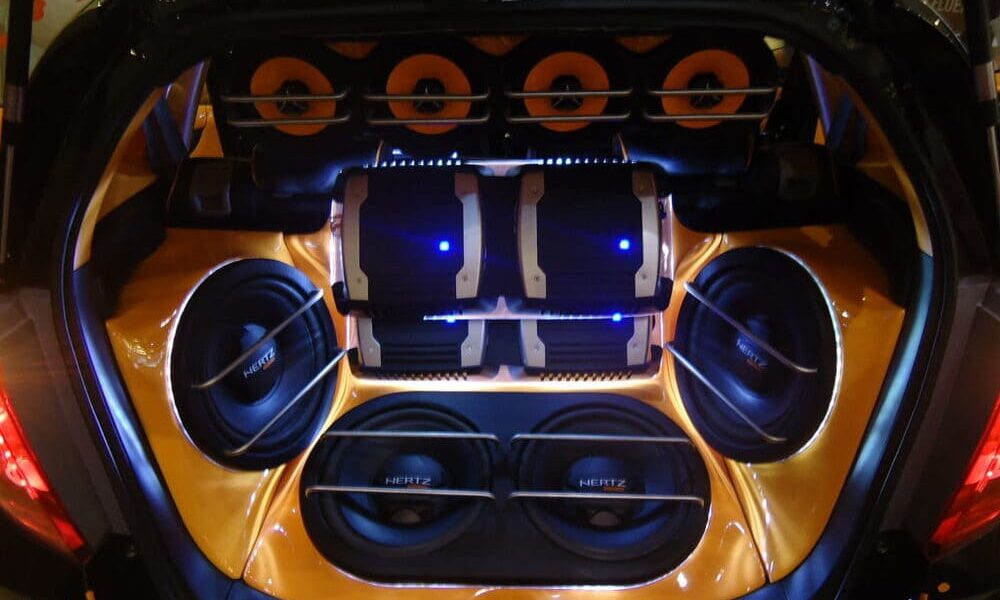 The rising prices and uncertain economy mean that people are not exactly lining up to spend money on new vehicles but are instead focusing on maintaining their current cars so that they remain reliable and functional for the foreseeable future.
However, not wanting to buy a new car does not mean that you should not try and upgrade your present one. One of the ways to increase your car's attraction and functionality is to upgrade its sound system.
Now, a lot of people think that improving a car's sound system involves a lot of money. If you are one of those people, this article, where we list down several cost-effective ways to bolster your car's sound system, might help change your thoughts.
How can you Upgrade Your Sound System Without Breaking the Bank?
1. Grab a robust set of speakers:
There are a few things better in life than to speed your vehicle into the sunset with your favorite songs blasting in your ears.
Unfortunately, the default speakers in most cars are not powerful enough to give you the crisp, clear, and loud sound that you desire. However, there are plenty of reasonably priced aftermarket speakers that you can purchase to improve the sound quality.
2. Make the desired sound adjustments:
Sometimes, even with decent speakers, you might find that the sound from your vehicle speakers is unclear or muffled – it is possible that the radio settings are to be blamed. However, this can be easily sorted, as almost all contemporary speakers come with digital equalizers that allow you to adjust aspects like bass, treble, and fade.
The optimal radio settings will depend upon the kind of music that you prefer. For example, rock music fans would probably want a higher treble setting and a lower bass, while hip-hop music will require bass and treble to be equally high. You will want to use a distortion detector or an o-scope to identify the perfect tuning, as it is crucial to keep the settings according to the output voltage of your radio – else, you might not get the clean power you are after.
3. Improve the head-unit:
The head unit is located precisely at the center of your vehicle's stereo and allows you to listen to clear music, receive calls, or use the radio. For this reason, it is vital to ensure that your car's head-unit is always up to date.
Understand the type of head unit installed in your car, and then, occasionally, shop around to see if there is an upgraded version. However, you would want to make sure that the head unit is compatible with the auto and is aligned with your requirements.
4. Get a Dynamat:
Dynamats are placed inside car doors and help you ensure that the sounds being played inside remain inside, and any external sounds do not make their way into the vehicle. Just place the Dynamats between the car door's sheet material and the various speakers, and you are all set.
5. Use an amplifier to enhance clarity:
Again, your sound system modifications will largely depend upon the end result you are trying to achieve. For example, if you want increased clarity, an amplifier is your answer.
There are special amplifiers designed for vehicles, purported to provide a more accurate signal. In other words, vehicle amplifiers allow you to listen to your favorite music frequencies with far greater clarity. An audio sound pro might help you identify the best amplifier for your specific vehicle and sound demands.
6. Invest in premium speaker cables and wires:
Without wires and cables, you cannot transport power and sound between the various stereo components. Low-quality and worn-out cables and wires mean that the sound quality you experience will be well below optimal. The first thing you need to do to sort this out is to search the market for thicker cables, as they will allow an uninterrupted flow of power towards the amplifier so that it keeps boosting as and when required.
Also, make sure to stay away from shorter cables, as they fail to provide an adequate amount of power to the amplifiers and speakers every time you increase the volume. On the flip side, excessively long cables might prolong the power transportation process, thereby leading to a system problem.
Now that you know how wires and cables can impact sound, you can take the requisite action to experience sound quality as you have never done before.
7. Use a Bluetooth compatible receiver for increased flexibility:
Music has long moved on from CDs and CD binders and is dwelling in the era of downloadable files and streaming services. While this advancement has certainly made storage and portability easier, it also requires you to possess special equipment to listen to music while on the road.
An auxiliary cable is a cheap and easy way to enjoy music during a ride, but it is just as easy to lose, forget, or misplace it. A Bluetooth compatible receiver is an excellent replacement for aux cables, allowing you to transform your car radio into a Bluetooth jukebox.
Using the FM frequency power, these receivers can play music through car speakers and spare you the trouble of carrying and looking after your auxiliary cables.
8. Alter your phone's sound settings (if you use it to play music):
Often, the audio quality issue is not with your car speakers or sound system, but with the external device you are connecting to it – a point that most people often forget. So, the next time you have a problem but struggle to find anything wrong with the stereo, make your way to your phone's equalizer and make a few tweaks. You can also seek help from a number of smartphone apps designed to increase the device's music quality.
9.Bay a subwoofer to take the bass to the next level:
If a more powerful bass is what you are after, a subwoofer is a worthwhile investment. A subwoofer with the right power will make your body thump in alignment with every bass note.
The subwoofer installation process can differ, though most modern subwoofers are installed underneath your vehicle seat.
Sometimes, though, getting the right amount of power will require you to pass a series of wires through to the subwoofer. Errors during the installation process might damage the subwoofer or amplifier, which is why we recommend that you let the professionals handle the procedure.
In conclusion, we understand that improving your car's sound system is not the most straightforward task, especially when you are on a budget. BUT this does not mean that it cannot be done – all it requires is a bit of research coupled with assistance from a trusted installer or supplier.
Courtesy of paautoinspection